---

No Mulligan Needed.
Just wanted to let you know my shoulder is great! I played golf twice a week through the spring, summer and fall with no problems whatsoever. Then the week before Thanksgiving I played in the 26TH Annual Colonel's Pre-Thanksgiving Golf Outing in Myrtle Beach. I played 7 rounds in 7 days again, no problems at all. I couldn't have done it without you and your team, but mostly you. Thanks again.
- DARREL D.
Dr. Galinat patient


---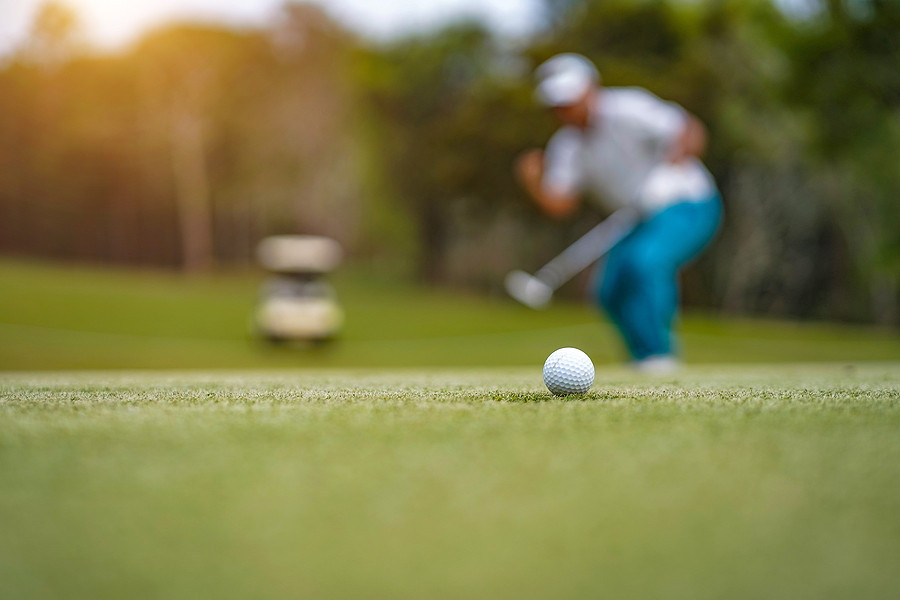 DOS Golf Tips for Healthy Muscles & Bones:
Stretch First
Check Your Posture
Don't Overswing
Stay Hydrated
Eat Snacks - Fun Fact: Tiger Woods eats a snack every 4-5 holes.
Listen To Your Body
Communicate with Your Team
Have fun!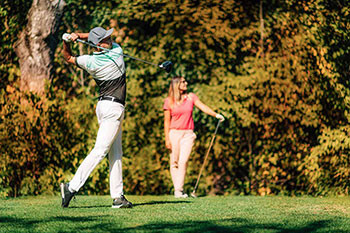 Helping Athletes Recover
Delaware Orthopaedic Specialists and our network of specialists help educate people on prevention of injury as well as provide treatment to those who have suffered from a sports related injury. Whether you believe you are in need of urgent attention or have been noticing signs and symptoms that indicate you should see a specialist and seek treatment, DOS is the perfect partner to help get you back on track and in the game. Some of the more frequent injuries we help golfers recover from include elbow tendonitis (Commonly referred to as Golfers Elbow), Rotator cuff injuries, severe back pain, wrist tendonitis, foot and ankle injuries, and severe knee pain. If you have been noticing minor or major discomfort while golfing and think it's time to seek professional help, don't hesitate to contact Delaware Orthopaedic Specialists and let us help you get back on the greens!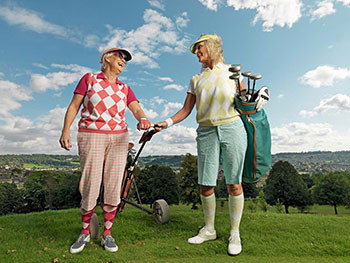 Importance of stretching to avoid injury
Stretching and taking the time to warm up properly before getting on the field is of vital importance for any golfer, regardless of skill level. Prior to playing, consider taking a brisk walk, stretching your hands, wrists, forearms, elbows, shoulders, back, and pelvis and going for some soft practice swings to get your prepared for the game ahead. Taking preventative measures and striving to keep a consistent, proper form while golfing can be the difference between staying on the field and enjoying the game or suffering an injury that sets you back and causes you to seek treatment and sit out the game while you recover.

"Success in this game of golf depends less on strength of body than strength of mind and character." - ARNOLD PALMER
"The most important shot in golf is the next one." - BEN HOGAN



Conducted by the Western Golf Association to benefit the Evans Scholars Foundation, the BMW Championship is the second of three events in the PGA TOUR Playoffs for the FedExCup and determines the final field of 30 for the TOUR Championship at East Lake Golf Club in Atlanta.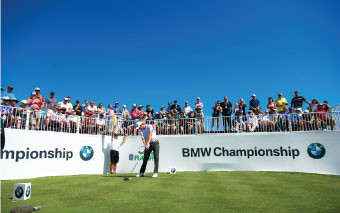 Event Title: BMW Championship
Date: August 16-21, 2022
Location: Wilmington Country Club; Wilmington, DE
Purse: $15 million in prize money
Field: Top 70 players in the FedExCup Standings
FedExCup Playoffs: Penultimate event, Top 70 players
Defending Champion: Patrick Cantlay
Title Sponsor: BMW of North America, LLC
Conducted By: Western Golf Association
Beneficiary: Evans Scholars Foundation