Delaware Orthopaedic Specialists is now offering Telemedicine!
Examples of urgent cases include:
Fractures
Dislocations
Lacerations
Ligament, Nerve & Tendon injuries
Acute Infections
If you have an urgent Orthopaedic need, you can reach our office at 302-655-9494 to be scheduled.
Non-Urgent appointments will be scheduled via Telemedicine. These appointments can be scheduled by calling 302-655-9494 or requesting an appointment through appointments@delortho.com
DOS Telemedicine will be powered by Doxy.me
Doxy.me is a safe and secure way for our physicians to connect with patients and continue caring for their Orthopaedic needs.
Doxy.me Access
As a patient you don't need to create an account to see your provider. You will simply click on the emailed link to access your appointment on the check-in screen. You will be placed in your provider's Virtual Waiting Room and your provider will start the call when they are able.
No need to download software or create an account. Just use a browser on a computer or device with a camera and microphone. There is no cost to connect to Doxy.me.
Private & Secure
All data is encrypted. Your sessions are anonymous to Doxy.me and none of your information is stored. Doxy.me adheres to HIPAA, PIPEDA, and GDPR data privacy requirements. More information can be found at: www.Doxy.me/patients
DOS Telemedicine Process
Step One:
You can request a Telemedicine appointment through our call center at 302-655-9494, or by emailing appointments@delortho.com
Once your appointment is scheduled, you will need to be available 30 minutes prior and 30 minutes after your scheduled appointment time. This will allow our staff to set you up in the Virtual Waiting Room.
Step Two:
Our Clinical Staff will call you to go over initial questions and health appraisal. The clinical staff will then send you a secure email containing the invitation link for your Physician's Virtual Waiting Room. Click the link to check in and your Physician will start your visit when ready.
*Allow your browser to have access to Camera & Microphone if prompted*
---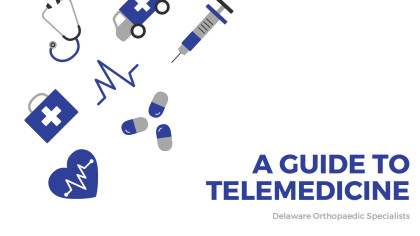 This presentation includes What to Expect for Telemedicine, Patient Consent, What to Prepare for Your Appointment and How to Check In.
Download