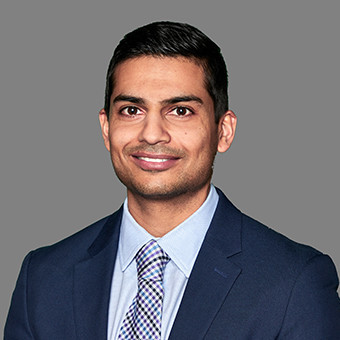 Hip Specialist
Joint Replacement Specialist
Knee Specialist
Trauma Specialist
Biography
Nick Patel, MD is a fellowship-trained orthopaedic surgeon specializing in hip and knee replacements. Dr. Patel is a native of North East, MD and graduated from Tower Hill School in Wilmington, DE. He completed a dual degree in Biology from Emory University and Biomedical Engineering from Georgia Institute of Technology, graduating with highest honors and a 4.0 GPA.
Dr. Patel obtained his medical degree from Emory University School of Medicine in Atlanta, GA where he subsequently also completed his residency in Orthopaedic Surgery. Dr. Patel's training here included high volume elective surgeries at a dedicated Orthopaedic Hospital along with extensive trauma experience at one of the nation's busiest trauma centers. While in residency, he performed research on the anterior approach for hip replacement along with methods to reduce infection in joint replacement.
After residency, Dr. Patel pursued a fellowship in hip and knee reconstructive surgery at Harvard University's Brigham and Women's Hospital. He has extensive training in both primary and complex/revision joint replacement. Dr. Patel also has a particular interest in the minimally invasive direct anterior hip replacement, partial knee replacement, and use of robotics in joint replacement surgery.
He is a member of the American Association of Hip and Knee Surgeons (AAHKS) and the American Academy of Orthopaedic Surgeons (AAOS). Dr. Patel's current research interests include integrating his engineering background with clinical medicine to improve outcomes in joint replacement patients.
He is excited to return to the Delaware community with his wife and husky. Dr. Patel joined Delaware Orthopaedic Specialists in 2021 and is accepting new patients!
Honors
Top Doctor by Delaware Today: 2022
---
Related Media
---
Patient Testimonials
Impressed & Happy!
Dr. Patel was curteous, kind, and very knowledgeable. He listened! He explained my xrays in detail and answered all my questions w/o hurrying my appointment. I was impressed and happy w/the time he spent w/me. He represents the younger generation of docs admirably.